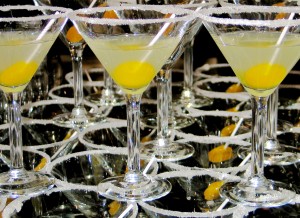 To beat the heat, A Legendary Event suggests serving a refreshing cocktail at your summer soiree! As one of Atlanta's award-winning caterers, our "Legendary" mixologists have been concocting fabulous drinks for your special summer days and soirees.

Tony's Old Fashioned Favorite:
In true, classy Conway fashion, Tony releases his recipe for an Old Southern favorite.
1 Splash Soda Water
1 Sugar Cube
2 dashes aromatic bitters
1 ½ oz Whiskey (Canadian Club)
1 Orange Slice
1 Cherry
1 Lemon Peel Twist
Muddle soda water, sugar, and bitters in an old-fashioned glass. Add whiskey and ice. Garnish with an orange slice, cherries, and a lemon twist.