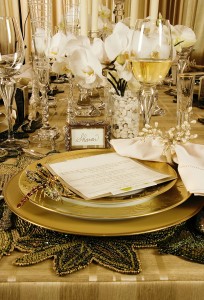 Make a "Legendary" impression at a dinner party. Tony Conway, founder and CEO of the special events company A Legendary Event in Atlanta, GA, is the master at leaving impressions.
Today, Tony shares his no fuss tips on how to impress and look like the best. His tips for dinner etiquette are simple to follow and even easier to make a habit.
? The Perfect Setting-To remember the placement of your dinner set up, think of this moniker: 'Bread, Meal, Water.' Your bread plate will be on your left, your meal plate is in the center and your water or wine glass will be on your right.
? A Cut Above-When cutting a food item on your plate, your fork should be turned down, holding the item while the knife gently cuts through the item.
? The Rule of Thumb- When it comes to which to use first, always work your way from the outside in. The outermost silverware is for your first and second courses and so on and so forth.
? Table It- It is important to remember that once the utensils are used, they should be placed on the side of your plate and are not to touch the table again, including the handles.
Your dinner etiquette will be a hit with fellow guests and potentially an inspiration. You're a legend; now, flaunt it!