If we're going to achieve the impossible, we will need a village.

—Tony Conway
With a client list containing the who's who in the corporate, social and charity markets, Legendary Events has become one of the most sought-after, full-service special event companies in the Southeast. Under Tony's leadership Legendary's catering, floral décor, design and event-planning divisions have earned stellar reputations by sticking to the company's core values in delivering; World Class Cuisine, Gracious Service and Exceptional Décor.
Tony Conway's recipe for success came from knowing how to make a celebration larger than life. "Commitment to excellence, attention to detail and personal service is just part of it," notes Tony. "My move from hotel catering to off-premise event planning was all about freedom. I spent 20-years in a ballroom ," he explains. "I was ready to get out and be in different venues, and take my creativity to new levels."
Commitment to excellence, attention to detail and personal service is just part of it…
From intimate dinner parties to throwing awe inspiring events for thousands, Tony knows no bounds. He started the company in 1997 and as the company has continued to grow so has the admiration and respect for Mr. Conway amongst CEOs, celebrities, socialites and politicians throughout the Southeast and beyond.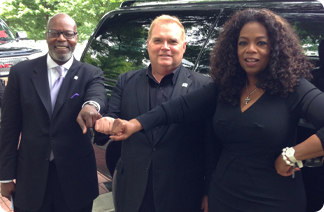 Despite this growing prominence, Tony knows having honed his skills in the hospitality industry as Director of Catering and Conventions for Marriott Hotels, Stouffer Hotels and The Ritz-Carlton, that ultimately nothing is more important than making every client feel like the star of their own events.
Legendary Events clients are diverse. For the discerning brides, proud parents, birthday divas and fundraising hosts Tony is known to be the steady reassuring mastermind behind the scenes ensuring every detail is adhered to and every guest leaves with a smile on their face. For corporations like Delta Air Lines, Mercedes Benz, The Home Depot, Bloomingdale's and Coca Cola, Tony and the team create well-orchestrated event magic on time and always within budget.
For well-known names in TV and film like Tyler Perry, Jane Fonda Toni Braxton, Oprah Winfrey and Sir Elton John, Conway is admired for his flexibility, charm and his unflappable demeanor. He is the event expert to the stars who can be trusted to organize show stopping performances and produce glamorous red carpet affairs.
Due to this expertise, it will come as no surprise that Tony has been asked to contribute to numerous publications such as Cosmopolitan, The Atlantan, Biz Bash, Delta SKY Magazine, InStyle Weddings, Woman's Day, Atlanta Magazine, Modern Bride and Southern Bride.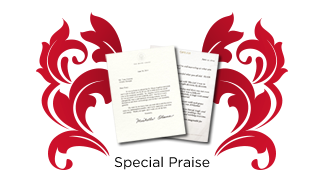 Tony was also recently featured as the event planning expert on two popular TV shows, The Steve Harvey Show where he discussed the design and execution of Steve's daughter Karli's luxurious wedding and the hour long prime time TV special – 'Too Darn Hot' on the OWN network.
The OWN show gave viewers an exclusive behind the scenes look at how Conway and the Legendary Events team plan the annual star-studded Hollywood party thrown by Tyler Perry to celebrate his TV production collaboration with Oprah.
For the charitable organizations that work with Legendary Events, Tony is known as a generous host willing to go above and beyond in fostering just the right ambience perfect for celebration and for giving. But above all, no matter the sector or industry, Tony considers all of his clients equally important.
"Commitment to excellence, attention to detail and personal service is just part of it,"

 

notes Tony.
Committed to the local community, Tony has sat on the boards of the following organizations: The Atlanta Convention & Visitors Bureau, the Alliance Theatre, Leadership Atlanta, Murphy-Harpst Children's Center, Complexions Contemporary Ballet, The Atlanta Community Food Bank, Senior Citizens Services, Central Atlanta Progress, UNICEF and many others.
For his indelible imprint on the industry Conway has received "The Atlanta Chamber of Commerce Small Business Person of the Year award", "The Special Event – Lifetime Achievement Award", a coveted "11 Alive Community Service Award" and the "Georgia Entertainment Gala Highlight Award." Tony has also been inducted into the "Event Solutions Hall of Fame" and he was recently named one of Biz Bash Media's "Most Innovative People in Events & Meetings."
In addition to his service to the local community Tony has served as an Honoree Patron Chair for The Ronald McDonald House Gala, Chair for the American Cancer Society's "Cattle Baron's Ball," and UNICEF's "Designs of Hope". In 2015 Conway was crowned King of "The Starfish Ball" which benefits the NSORO Foundation.
Additionally, Legendary Events has donated more than $12 million in services and contributions to organizations which share the company's commitment to giving back.