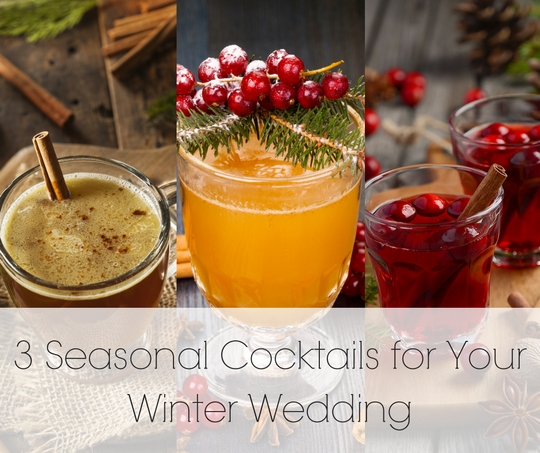 Winter boasts some of the most delicious tastes of the entire year. Apples, pears, figs, cinnamon, nutmeg, vanilla, crackling fires and toasted marshmallows are just a few of the signature aromas and flavors that chase away the cold by warming both body and spirit. It's no wonder that so many brides opt to plan their big day during such a special season.  
Whether you opt for wedding catering in Atlanta or you prefer to host your own wet bar for your special day, there are a number of cocktails that are perfect for a winter wedding. 
Three
Wonderful Winter
Wedding Cocktails
Even though apple cider is traditionally a warm beverage, there is something special about enjoying this Bellini with a twist. This harvest-inspired cocktail combines the classic Prosecco with mulled apple cider, a fig-infused liquor, and powdered cinnamon or granulated sugar on the rim. Ideal for a late morning winter wedding ceremony that is followed by an early afternoon brunch, or a bridal shower with the closest women in your life.  
An annual favorite for the cool weather is a rum-inspired cocktail, such as the Apple Cinnamon Rum. By combining the notes of spices like cinnamon, nutmeg, allspice, and clove, you can bring out the essence of the season. Rather than adding a regular cider, opt for a dark rum instead, then add freshly sliced apples, and top it off with an ever-so-slightly effervescent beverage if you prefer a bit of sparkle. Hot or cold, this is the perfect nightcap for your evening soiree.  
If you want to serve a drink that will surprise and delight, try the Vanilla-Pear Vodka. Flavors and spices like apples and cinnamon tend to steal the show when it comes to winter cocktails, but pear-based beverages are just as refreshing and offer a unique drink option for those brides who like to go against the grain. The vodka offers a subtle base for the other aromas to build on, while the vanilla essence gives it a warm, inviting taste that is sweet enough to keep your guests sipping on it all night long.  
Legendary Events provides a team of award-winning culinary artists who have the talent, the passion, and the expertise to create one-of-a-kind wedding menus from scratch. Whether you prefer a more traditional spread or you desire a completely customized selection, Legendary Events works directly with you to realize your dream for your big day. To begin discussing your ideal wedding menu, contact Legendary Events today.