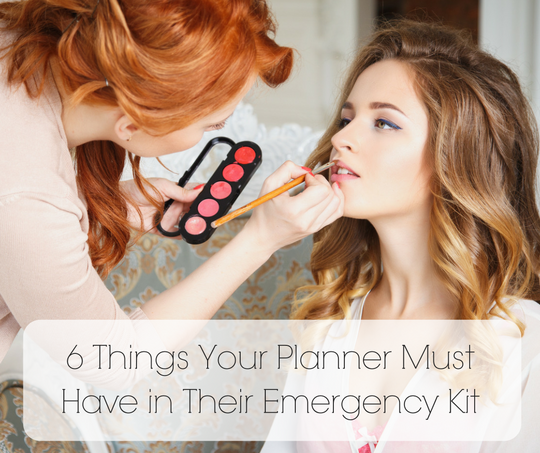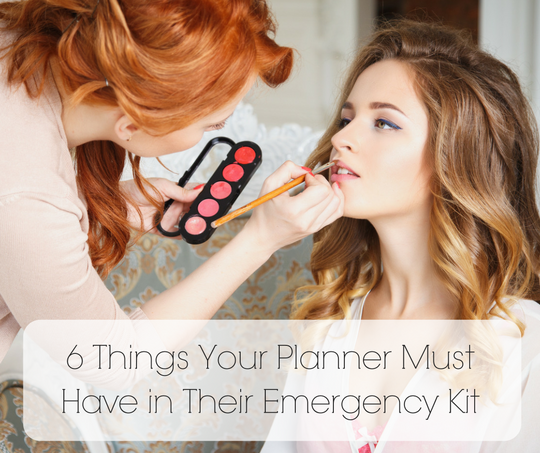 For the wedding party, the wedding day should be relaxing, stress-free, and focused on preparing the soon-to-be-wedded couple to make one of the biggest commitments in their lives. The last thing any bride or groom wants to hear is the sound of a busted zipper or a spilled glass of red wine.  
Unfortunately, unforeseen mishaps do happen, even on the day of a wedding. That is why your wedding planner in Atlanta should have a kit prepared with these life-saving items. 
Hair and

Make-Up Saviors

Your Wedding Planner Must Have
White Cosmetic Makeup Sponges
Whether you need a quick touch-up before taking more photos or you need to soak up a stain, having a pack of makeup sponges in the emergency kit will save you from a host of cosmetic blunders.  
Does the groom have a cowlick that just won't stay flat? Are the bride's curls falling too flat too fast? This tiny wonder will quickly fix any minor hair malfunctions. 
From the time that your makeup is finished in the morning, until the time you depart with your new husband, there will be a lot of eating, drinking, and of course, "you may now kiss the bride." With all of that activity, you shouldn't need to re-apply your lipstick every 20 minutes. That's why having a long-lasting lip stain is a must-have for an emergency kit. With just 1 or 2 applications, you will be photo-ready for the rest of the day.  
Rice Paper Oil-Blotting Tissues
These are especially helpful if you are planning an outdoor wedding. Rice paper tissues avoid smearing your flawless makeup but still soak up any oil you might accumulate from being in the hot sun or from enjoying yourself on the dance floor.  
Other

Lifesavers

Your Wedding Planner Should Have on Hand
This item is essential if your wedding ceremony will be outdoors. It will prevent heels from sinking into the grass or sand and keep the bridal party shoes flawless and beautiful. It also makes it much easier to walk on uneven ground, so it provides walking stability as well.  
If you plan to wear any kind of artificial nail on your wedding day, you must have fast-drying nail glue available. It does fix a chipped or broken nail, but it can fix just about anything else, too.  
Baby Powder and Deodorant Wipes
Both baby powder and deodorant wipes/toilettes will keep you feeling fresh from the altar to the dance floor. Baby powder also can effectively hide wedding gown stains, and also can help prevent any unsightly sweat stains if your wedding is outside in the warm weather season.  
This item is an absolute must for any outdoor wedding in Atlanta. Uninvited guests make any wedding awkward, but it's downright rude when they start biting the bride and groom. Apply a few spritzes to the couple before the ceremony begins and refresh throughout the reception to keep mosquitos and other flying pests at bay.  
The event and wedding planners at Legendary Events are experts who are passionate about making your dream wedding a reality. Contact Legendary Events at 404-869-8858 to start planning the ultimate wedding event today.