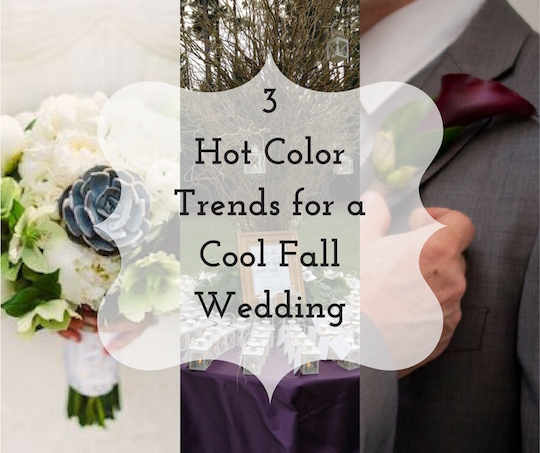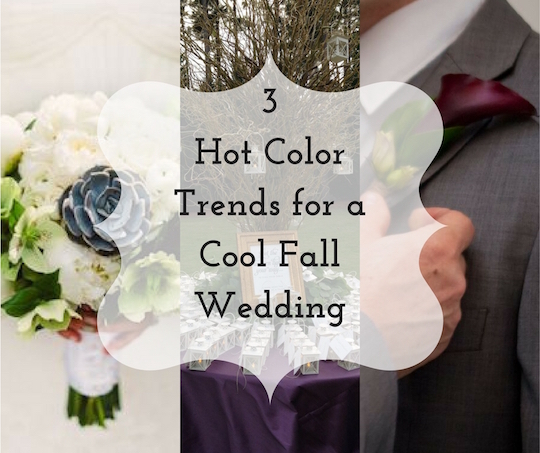 For some newly engaged couples, choosing the color palette for their wedding can be exciting and fun, while others dread that part of the decision-making process. After all, the colors you decide on will determine virtually everything else about the design of your wedding – from décor to flowers, to dresses and cake, it's no wonder that picking out a few specific colors is an important matter for many couples.  
Having a wedding designer in Atlanta to help you choose from hundreds of options can help take the pressure off, as well as allow you to enjoy the engagement season without stressing over each detail of your big day.  
Why Fall Colors

for a Wedding

? 
Planning a wedding in the fall gives you the opportunity to play with a variety of shades and hues that the other seasons of the year simply don't allow for. Pastel colors mimic the budding trees in springtime, while brighter, more fun colors take over the summer, and winter offers a spectrum of monochromatic shades.  
But autumn combines softened versions of the fun, bright summer hues with some of the darker tones of winter, alongside its own individual harvest of colors. There are numerous ways to incorporate the perfect blend of seasonal shades to create a wedding color palette your guests will always remember.  
Earthy

Colors for Your Fall Wedding
When you imagine "earthy" colors, you probably picture mocha brown, burnt orange, mustard yellow, along with a spread of nature-inspired neutrals. But instead of sticking to the more traditional idea of what constitutes "earthy" for your fall wedding palette, include a few pops of color your guests might not expect.  
Try a combination of lime green and deep-ocean blue against the backdrop of a sandy beige and milk chocolate brown. This provides the perfect balance of fading summer shades and autumnal neutrals.  
Try These

Infused

Colors for Your Fall Wedding
Nothing says "fall" quite like the deep, rich color of eggplant purple. The iconic aubergine gives any wedding color palette a boost of elegance and sophistication. By pairing this with a crisp white and a few custom pastel shades of baby green and blue, you will have a selection of fall colors that is sure to amaze your friends and family.  
Choose a

Rustic

Themed Wedding
To pull off the ideal "rustic"-themed wedding, start with beautiful, classic jewel tones like burgundy or dark maroon. These refined shades give your ceremony a sense of culture, class, and style. Combine with a hunter green, a rich, warm brown, and a hint of ivory to evoke the beauty that Mother Nature has to offer in the harvest season.  
Choosing the precise shades and styles for your big day doesn't have to be time-consuming or overwhelming. When you choose Legendary Events as your wedding designer, your Sales Manager will work with the floral designers, culinary team and a dedicated Event Manager to ensure that you receive nothing less than your dream wedding. To begin discussing your wedding plans, contact Legendary at 404 869 8858 today!