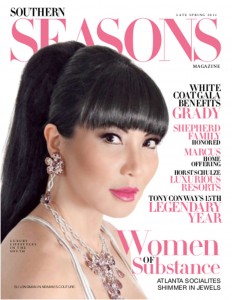 A Legendary Event is thrilled to be featured in the luxury lifestyles magazine Southern Seasons Spring issue, 2012.  The cover features "Tony Conway's 15th Legendary Year" and the stunning article that follows highlights A Legendary Event's years of "Legendary" events and "is a celebration of the past 15 years of successful events and memories made throughout the Atlanta community."
The gorgeous 7-page spread  is filled with exquisite photography and glowing reviews from notable celebrities and dedicated community leaders.   The article shares the growth of A Legendary Event into the industry award-winner it has become along with Tony Conway's continuing passion and diligence for making a difference.
At A Legendary Event, we credit and honor our clients and thank Southern Seasons for their ongoing work to the community supporting so many worthwhile causes.  We are excited to celebrate 15 more years as we make every event Legendary.  For a look behind the scenes and a sneak peek at our catering, design and floral, enjoy the photo galleries at www.alegendaryevent.com.