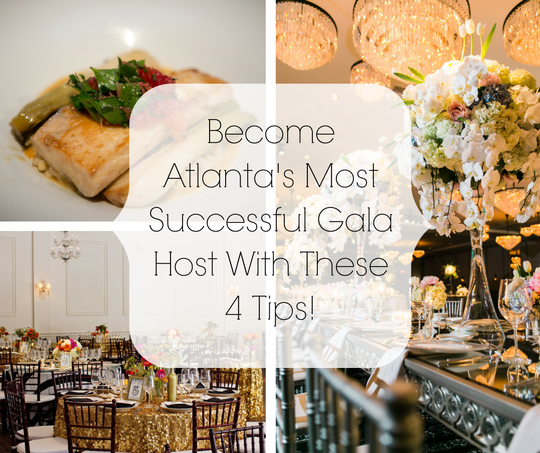 When you're planning a social event in Atlanta, every detail matters. As the host of a black tie fundraiser, everything from choosing the right venue for your gala to selecting the color palette will play a big role in the success if your event. Here are some tips for planning a successful fundraising gala. 
The first thing you must do is understand the guest list and be sure that you're curating an event with them in mind. If you're looking to attract powerful couples, a charity ball would be an ideal event to put on as it offers a romantic and philanthropic date night.  
For single donors, a seated dinner can be a great alternative for a group outing that has just the right touch of luxury. A silent auction would appeal to your more reserved guests while an interactive live auction would add a fun activity to your event for a more outspoken crowd.  
Remember that when it comes to planning your fundraiser, there is not a single right choice for an event; there is, however, only one right choice for your particular list of potential donors.  
Match the Color Scheme with the Fundraising Cause 
You should also ensure that you match your cause to your theme. For example, if you're raising money for a children's organization, the color scheme should be far more in the primary range and more fun while an ecological cause should be more natural.  
Of course, some causes have traditional color schemes that are easily recognizable. Heart disease usually is represented by the color red while the military is represented by yellow.  
Make

It Easy for

Don

ors to Give
To ensure that you are raising as much money as possible for your cause, making a donation should not be a challenge for your guests. Plan activities that inspire your guests to spend money or make a pledge for your cause at the event.  
For example, you can engage your guests in a raffle or auction that inspires a friendly competition. Be sure to include debit or credit card and mobile payment options, but also be willing to take a pledge during the event and follow up with donors for payment afterward. 
Select the Perfect Social Event Venue
The final tip is to select the right social event venue for your fundraiser. While fundraisers are often planned under a strict budget to ensure that the funds earned are funneled directly to those in need, your event still needs to attract and inspire guests who can make significant contributions to your cause.  
One way to do this is to select an awe-inspiring venue that will wow your guests from the moment they receive your invitation to the time they leave your event. Legendary Events offers two luxury event venues: The Estate and Flourish. Both venues are ideal locations for a newsworthy fundraising gala and feature magnificent settings for an evening of philanthropy in the heart of Atlanta's premier neighborhood, Buckhead. 
Contact Legendary Events today at 404 869 8858 to schedule a tour of their stunning facilities and begin planning your most successful fundraiser ever. 
Choosing to maximize your budget will not only lead to an amazing event but also inspire confidence in your cause. Your guests will have an amazing time while raising funds for those in need, inspiring them to continue to donate year after year.