The Fabulous readers of Jezebel magazine have voted The Estate – BEST WEDDING VENUE of 2015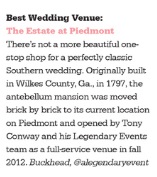 Legendary Events is the exclusive catering, design and decor provider at The Estate
so we couldn't be prouder of our wonderful historic and secluded Special Event Space.
Whats not to love about conveniently located privacy, beautifully designed salons,
custom art work by The Bill Lowe Gallery, and stylish decor by Mitchell Gold and Bob Williams.
Not to mention the sun porch, the picturesque fountain, a cool wine cellar and much more .
Thanks again to everyone who voted!